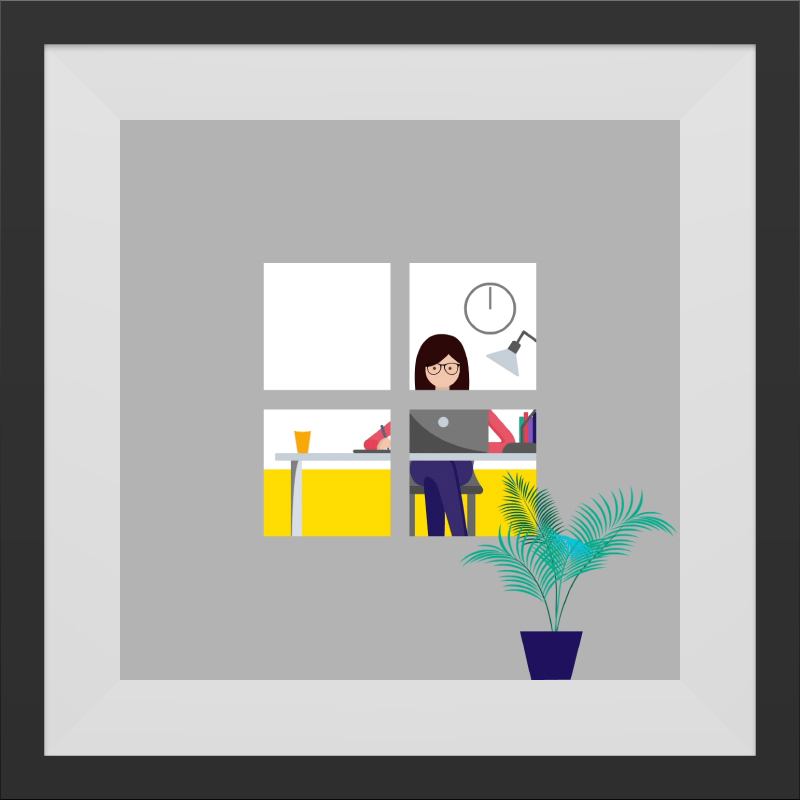 The lockdown diary of an anxious introvert…
So, how has lockdown been for me? I write this not only for this blog, but as a keepsake and, I expect, some self-therapy thrown into the mix. Here goes…
In the run up to lockdown it all seemed very surreal – I'd watched the news and the devastation in China, and then followed the story of the UK nationals aboard the Princess Diamond cruise, but I'm ashamed to say that it didn't really hit home, until it literally hit home!
On the 12th of March, the TPSquared team gathered round my Mac to watch Boris Johnson deliver his speech…that's right, all of us in the same room and the term 'social distancing' at this point relatively unknown. Covid-19 had already been declared a pandemic and so I'd spent much of the day checking and awaiting the press conference to see what changes would be announced. I have two daughters, seven and three and, with much talk of school closures, I fully expected the PM to confirm this and impose many more restrictions. Still naïve in what the following weeks were to hold, I was excited by the prospect of having maybe five weeks at home together, before the girls returned to school, I assumed, after Easter. The PM's speech, however, introduced little changes at this point – no school closures, though I do remember being told we would be 'guided by the science' and introduced to the idea of 'flattening the curve'.
That weekend I went to various shops to try and track down some soap, toilet roll and hand sanitiser. Not to panic buy you understand, but to make sure I'd got enough due to everyone else panic buying! That same weekend, my Uncle, who was already in intensive Care, tested positive, also meaning my Mom and Dad who had visited were now self-isolating. It was now getting scary and very real. My daughter was also really not her usual self and I was constantly monitoring her temperature and watching out for that 'new consistent cough', which thankfully never came.
By the Monday, we decided as a team that we all felt happier working remotely. Our set up at the office allowed us to replicate this, swiftly and securely, from the comfort of our own homes. My husband was also due to 'trial' working from home from the Wednesday, cue him visiting Ikea on the Tuesday night and joining many others in (panic) buying new desks. So, we built our desks and Wednesday 18th saw day one of us both working from home, with our two children. However, whilst the entire nation was concentrating on flattening the curve, my anxiety, like others, decided it was a good time to peak.
The following week, England was on official lockdown. As an introvert, there was something comforting about this. I was happy to be in my cocoon at home with my husband and children, locked away from the world. But with the comfort of this, I also became dependent on the daily news briefings and, once rules were introduced, I stringently stuck to them and was constantly bothered by people bending the rules. Group WhatsApp chats and opposing views became a source of anxiety… cue me muting and exiting groups.
We would leave the house for our one, and only one, permitted session of exercise each day. If my husband ever suggested he went on a run once the girls were in bed, I would give him a knowing look – we'd already been out once. I guess this was a bit of a control over the situation, wanting to know that I was doing the best for my family and everyone else. We stuck to the rules and, as such, it became difficult to change my mindset when the rules were eventually relaxed.
By now everyone in the country had learnt a new word 'furlough', however, TPSquared were fortunate to have clients requiring our service throughout the pandemic, so the whole team continued to work. Working from home is great, however in all honesty, working through a pandemic from home with my two children and a working husband has been a struggle.
Suddenly I was teacher and completely overwhelmed by the amount of amazing resources available on hand to pick from. I was a self-taught hairdresser – some days were more on point than others! A hand washing obsessive. A social distance controller. I became a shopping slot ninja for myself and for anyone I could try and help. Having never been interested in politics, I suddenly knew so many politicians by name, and never missed a briefing.
TPSquared team kept in touch really well. Hosting whole team chats several times a week, plus numerous one to ones. It was clear that lockdown bought different difficulties for everyone's individual situations. Carolyn sent each of us a lovely gift, with a personal message on a card saying 'You've got this' – I wasn't quite sure I had, but it was a lovely gesture. Our team check-ins meant that we had an output to talk about how we were, and it also meant we had a good idea of how each other was doing. I'm a crier and I've cried a few times in these chats. We also attended an online workshop, hosted by Mindful Monday and Tahirih McLaren-Brown on supporting metal health while working remotely.
Work wasn't difficult, but the situation of working, while trying to entertain two children did become harder and harder. I felt guilty that during such a strange time for the girls, I wasn't being the best I could be for them. And while everyone I knew seemed to be furloughed and enjoying 'quality family time' for weeks on end, I seemed to be constantly on edge and trying to distract my children so they wouldn't interrupt my or my husband's meetings – Carolyn was very understanding, and more than supportive of flexible working, so that I could try to work around the girls as best as possible.
As weeks went on, I continued to watch the daily briefings. Although homeschooling and entertaining the girls while working from home was a big source of my anxiety, I was dreading the prospect of being told they should return to school – luckily for me that day never came. I was also met with a double helping of anxiety when they announced the daily briefings would be stopping – is anyone else with me there?! They'd become a source of comfort, keeping me up to date with the situation.
We are now in week 17 since full lockdown was announced! We officially made it to the school summer holidays and so homeschooling pressures have now eased a bit. While our camping trip to Cornwall has been cancelled for this year, me and my husband have booked our annual leave separately so the girls can have at least one of our undivided attention all day, every day, throughout August, and the other can work rest assured there won't be any additional uninvited attendees on our video calls.
While lockdown is gradually being relaxed, I'm still being super (maybe overly?!) cautious. It'll be baby steps for me. I have yet to go into a shop, or give my Mom a Mother's Day or 60th birthday hug and I still have my social distancer hat on. I do know, however, that come September the girls will be back at school and I think it will be good for all of us – for me to let go of them and for them to be reunited with their lovely friends. It will be emotional I'm sure. And just in case you were wondering, I'm happy to say that my Uncle who tested positive has now recovered!
TPSquared continue to work from home and will return to the office once we are happy to do so. For now though, I think we've got through the last few months pretty well – here's to hoping our 2nd year of business is a little smoother!
So why have I spoken openly in this blog? TPSquared have signed up to the West Midlands Combined Authority Thrive at Work Programme, a workplace commitment promoting well-being in the workplace. We always say it's good to talk about how we're feeling don't we. So, while I realise that there are thousands upon thousands of people in far worse situations than me, this was my story of Lockdown.
Claire
TPSquared Limited
claire@tpsquared.co.uk
Subscribe to our blog to be notified when we publish new content