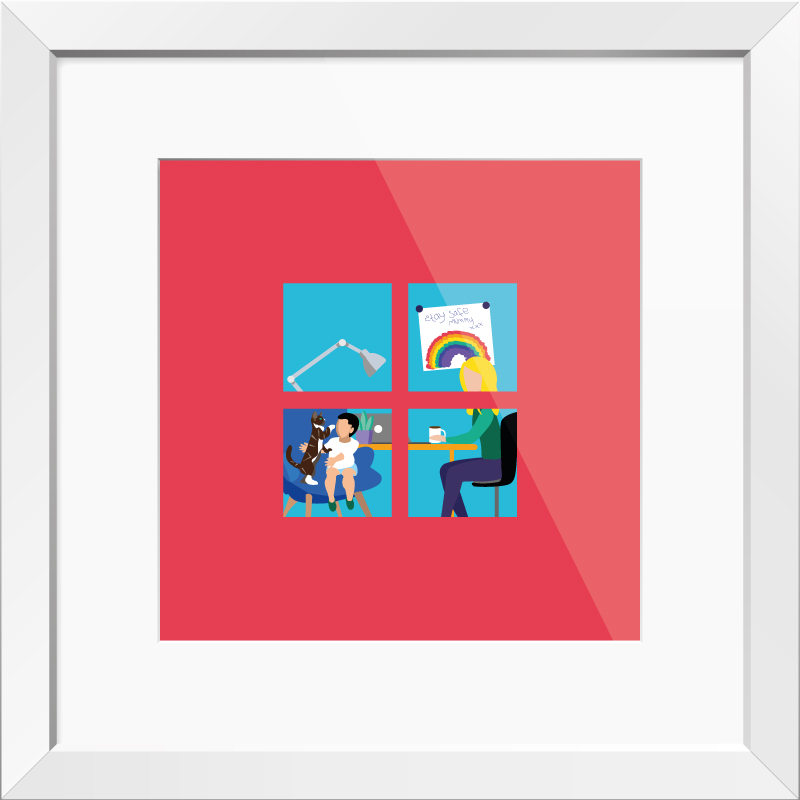 Who even has a pandemic plan anyway?
Like many businesses, navigating our way through these crazy times has been a challenge! Who even has a pandemic plan anyway?
I was on a family break in Devon, visiting my daughter who is studying Fine Art at University, when it became apparent that COVID19 had hit the UK and things would be changing quickly in unexpected ways for who knows how long!
As a team, we made a decision that we wouldn't wait for government advice – we would all work from home starting Monday 16th March. Over the years, we have invested in technology and implemented processes to allow us to work remotely, so now was an ideal opportunity to put them to the test!
I was feeling refreshed and ready for the challenge. Very surreal!
Week one. Having just returned from our break, the first few days working from home was all about catching up on emails, setting up a home office and getting through mountains of washing that a 3-year-old creates from a week's holiday! The eldest daughter moved out some time ago so her old bedroom is now my office. I went shopping to pick up some essentials – cried and laughed because there wasn't any toilet roll, pasta or much else on the shelves. Office desk and chair ordered!
Week two. I received texts from the NHS Coronavirus Service and a letter from the government to advise that my son has been identified as at high risk of severe illness if he should catch coronavirus, asking us to remain at home for a minimum of 12 weeks! During the period we're shielding him, we've been given priority delivery slots from the supermarkets and help with collecting prescriptions and other essentials. Because we'd been away, we hadn't had chance to check his medicine supplies or shop for the foods my son can eat (with a wide range of allergies, I'm worried that we'll struggle to get him the relevant foods). Supermarket shelves are still bare. Excited for my desk and chair to arrive this week. Sitting on a bed with a laptop isn't ideal!
Week three. Lots of information coming from many places on grants, CBILS, furlough and safe working. So thankful for the updates and newsletter from our accountants, Bradley Rhodes, and from the Black Country Chamber of Commerce (we're members). They cut through the noise and give concise information about what help is on offer. A massive weight off my mind. Desk and chair delivery arrived. Hurrah. Realised it wasn't my order so asked the driver to take it back! Not Hurrah.
Week four. Thankfully our key clients are continuing to operate and are keeping us busy. Lots of BAU and an increase in online marketing materials and interactive forms. Correct desk and chair arrived – I now have a home office at last! A place for everything and everything in its place. This has made working from home so much easier and I feel like I have taken back control of my days. Feeling more productive. Just need to see what I can do about that 3-year-old running in on every Zoom call and joining my meetings!
Week five, six, seven and eight. Have been all about the West Midlands Creative Scale Up Programme that we enrolled on last year and getting involved with every webinar I can. Now more than ever is a great time to focus on the business and learn as much as I can from the experts, coaches and mentors. I'm a Master of Zoom! I have a TPSquared branded background (it helps to conceal the excitable child running in and out of the room) and stumbled upon the 'touch up my appearance' setting. Applied! I've also managed to cancel the food parcels that we have been receiving on our doorstep. A great service for those in need, but after securing a regular weekly food delivery and the supermarket shelves now pretty well stocked, we don't need these anymore and they can be better utilised elsewhere. I've saved up the non-perishable food items ready to donate when I can get out of the house!
May. I've been racking my brains on how the TPSquared team could give something back to the community during the crisis – something using our creative skills. I've loved seeing all of the good news stories of people volunteering, donating their time or services and fund-raising activities. I think we've found a way do something – I can't wait to share that over the next few months. Acts of kindness and pockets of fun are helping to keep spirits high. With that thought in mind I sent a little pick-me-up package to each of the team, with some colourful gifts to brighten up their home office and a note to say, 'You've got this!'. I received a call from our GP to advise that we no longer have to shield our son and can follow the standard social distancing guidelines. We are now allowed to go out to the supermarkets and our daily exercise, something we haven't done while we've been shielding for the last 8 weeks. Shoes on and straight out the front door!
June. TPSquared journey on the Creative Scale Up Programme has come to an end! I'm so glad we signed up. I've met some great creative people and made so many new relationships. I'm feeling like I'm getting into my stride working from home. We're working on some exciting projects and, with lots of opportunities coming our way, I'm feeling the love from everyone supporting us.
A return to working at the office is in sight. But, so long as we continue to deliver our work to the same high quality, we aren't in a rush to get back before the time is right.
Carolyn
TPSquared Limited
Gravel Hill House
Gravel Hill
Wombourne
Wolverhampton
WV5 9HA
☎️ 01902 356280
💻 carolyn@tpsquared.co.uk
Subscribe to our blog to be notified when we publish new content