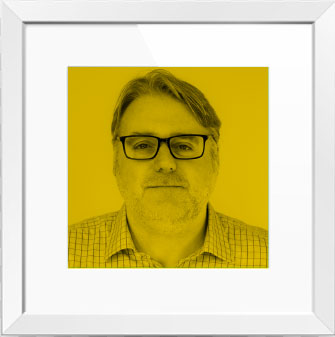 What is on your wish list for the next year with TPSquared?
Even with the current testing times and with the support from our clients I just wish us continued success.
Do you have an office nickname? What is it?
Ask the others!
If given a chance, who would you like to be for a day?
Neil Young, so I could play guitar.
If you could be anyone from any time period who would it be and why?
An audience member at Woodstock Festival in 1969.
People would be surprised if they knew:
Child seat model for Chrysler Cars, Old Hippy, Haçienda Raver (I have a piece of the dance floor), I have run two pubs, ex-Military Land Rover owner, Lighting Engineer for Darkside The Pink Floyd Show.
Favourite quote from a film.
"Do or do not. There is no try."
What aspect of your role do you enjoy the most?
The way new challenges come along all the time. I also enjoy the 'role' of our Mac I.T. man. I still have my original Mac, a 1990 Classic.
What is on your bucket list?
To drive the Bear Tooth Highway in Montana.
What is the first concert you attended?
The Macc Lads I think. It was scary!
What is the worst thing you did as a kid?
Too many things! I didn't get on with school so wagged it a lot!
What one food do you wish had zero calories?
Curry.
What was your first car?
1972 French Blue Triumph Toledo. Only had 24k on the clock, I loved it.
What is the first thing you would buy if you won big at the lottery?
A Pub. I do miss the trade – maybe one day.
What's your favourite season and why?
Summer – sitting outside until late with friends and good beer. Maybe next year then.
What are three words to describe TPSquared?
New, Creative, Team.
Subscribe to our blog to be notified when we publish new content