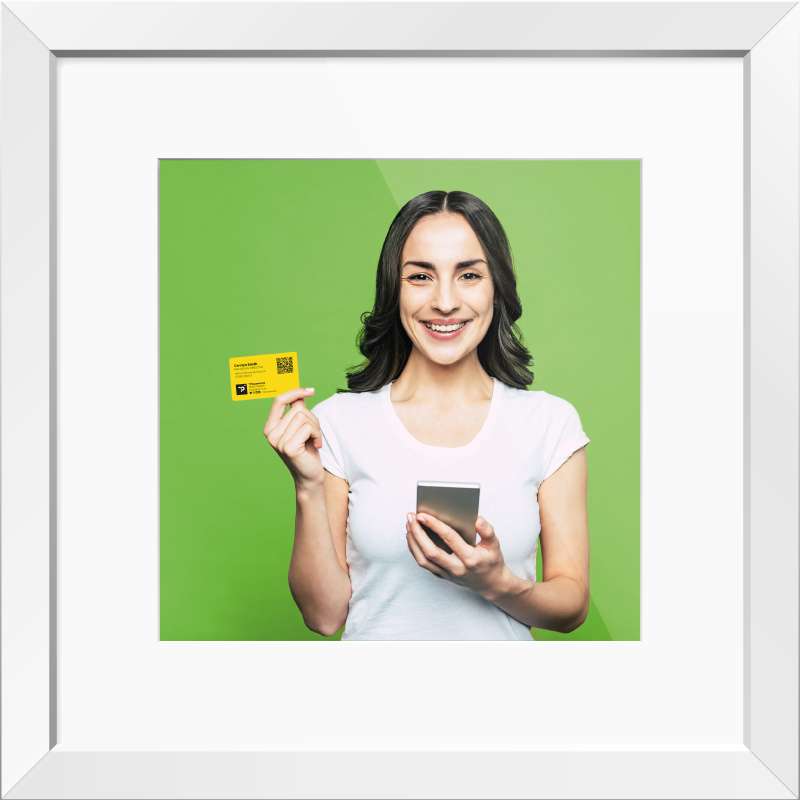 Contactless business cards that let you stand out from the crowd and reduce your carbon footprint.
myecocards use Near Field Communication (NFC) technology to allow contactless data transfer from your myecocard to a smart phone.
By simply tapping your myecocard against a smart phone, your contact details will be instantly transferred, allowing the recipient to save your details as a contact to their phone.
You programme the information you want to share through an online portal, allowing you complete control of the data you wish to share. Updating your profile is free of charge and you can edit it as often as you like. Information is updated in real time, ready for the next time you tap your card.
You can also share your profile as a URL by email. Simple!
You can share the following:
Name and job title
Photo
Company name
Company logo
Phone numbers
Address
Email address
Website URL
Social media links
QR code
In an increasingly environmentally-conscious marketplace, here's one small way myecocard can help you to be greener, to comply with any standards you already have in place, and to demonstrate your corporate social responsibility and environmental integrity.
Benefits of myecocard
The only business card you'll ever need!
myecocard works with both Android and Apple phones, enabling you to share information time after time from the same card. NFC technology allows your contact details to be saved easily with the touch of a button.
Stand out and make a good first impression
Add your brand or logo to create a fully-customised, digital business card, designed to impress.
Reduced touchpoints
In a covid-safe world, using a digital business card reduces touchpoints, allowing you to network safely.
Cost efficient and eco-friendly
Save money by reducing your spend on printed business cards, while helping to save the environment. myecocards can also be produced using eco-friendly materials, such as bamboo.
Stay in control of the information you are sharing
Update your information free of charge as often as you want, in real time. You choose who you share your details with – making this totally GDPR compliant.
Email hello@myecocard.co.uk to order your personalised myecocard today!
Prices start from £45 + VAT
TPSquared Limited
Gravel Hill House
Gravel Hill
Wombourne
Wolverhampton
WV5 9HA
☎️ 01902 356280
💻 hello@tpsquared.co.uk
Subscribe to our blog to be notified when we publish new content