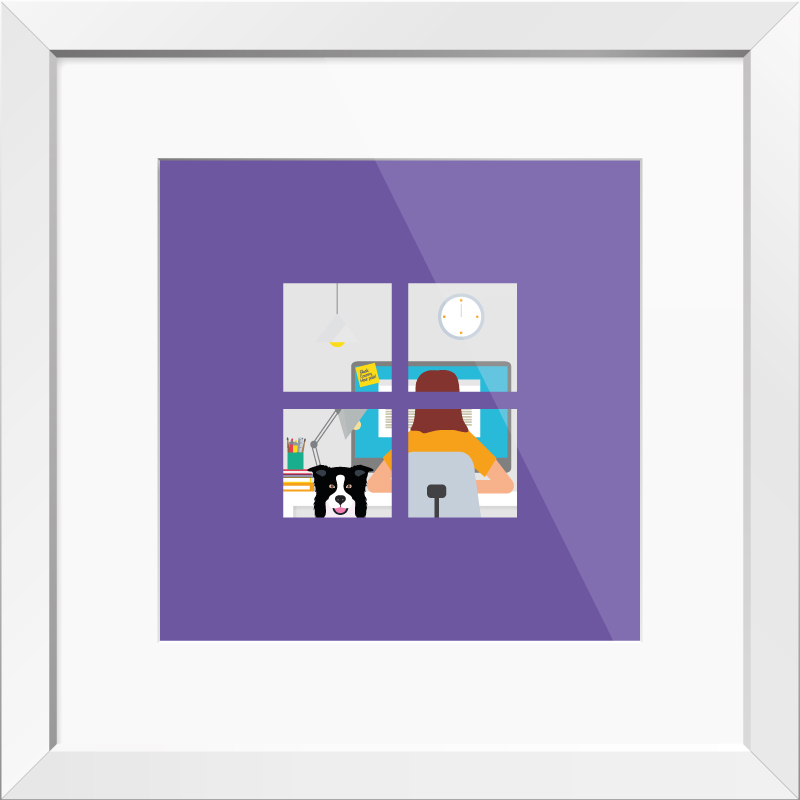 It's 1.30 on a very hot, uncomfortable afternoon in August. I'm sat at my disorganised desk in the spare room, still in my pyjama bottoms, listening to some cheesy 80's soundtrack while I start writing this blog, my first ever blog, and it's about being in lockdown during a pandemic. Who'd have thought it!
Back in March, the main subject of news was that of the terrible coronavirus pandemic. For a while, it seemed so far away from home, but now it's here right on our doorstep and the government are putting new rules together regarding working from home and furloughing staff. We decided to do the right thing and start sooner rather than later to set up TPSquared from our homes, we put a notice up on the front door to let people know, packed up our belongings and said a very sad and surreal goodbye to our offices.
That all seems so long ago now, and I have to say the days in between have been a blur, almost as though there has been no beginning or end, like a day stretched out over five months.
So, let me try and extract some memories from this huge lockdown haze…
Work has been great, we are the masters of Teams and Zoom and regularly keep in touch, at least three times a week. I love that I can wear my pyjama bottoms and no one knows, oops secret's out. The first few meetings I would greet my fellow colleagues with various speaking masks from my son's collection – week one Darth Vader, week two a Stormtrooper and week three Spiderman.
I have enjoyed working from home, it's something I've never done before. Being around with my husband and kids, having my dog Jack sat right beside me, not having to think about how I look (apart from Teams meetings, those masks came in useful).
My husband was furloughed, which helped immensely with home schooling. He would sit with my son most days trying to figure out fractions and algebra, which indeed paid off as he received 'outstanding' for his maths report. I would help out with his art, which was lovely –  he sketched a beautiful picture of Van Gogh's 'Starry Night' which will always be a memory of his home-schooling days.
My daughter has been working at her desk that we also set up in the spare room. She would sit working through assignments with her headphones on and, every now and then, she would say "what's that you're working on Mom?" As a graphic designer, I realise that my family don't get to see the process of what I do, a lot of people think that we 'colour in' all day 😂, so it's been nice to share what I do with my family.
I know I've painted a pretty picture so far, but I do usually look on the bright side – believe me, my life is not perfect (is anyone's)?
This lockdown has caused a devastating effect on the well-being of families, relationships, children and adults, but I have found that there has been so much support out there for everyone, for which I am thankful. At this point, I would like to send a massive shout out to Dion, founder of MindfulMonday, an ambassador of mental wellbeing. TPSquared believe that mental health is so important in the workplace and gladly support her cause. We attend the meetings on the first Monday of the month, but unfortunately this ground to a halt when lockdown started. There have been online sessions and we received a lovely 'box of positivity' in the post, which was well received and thoughtful – thank you Dion 😊
I've realised how much I depend on routine in my life and how guilty I've been feeling – I need to know what's happening and something valuable needs to be included each day. Lockdown has been a struggle for me in this respect, because although I have had all the time in the world to paint the doors and organise the thousands of photos clogging up my computer, I just haven't had the inclination to do it and that makes me feel guilty. My kids have spent way too much time on the PlayStation –  that makes me feel guilty. I spend more time than I should in my 'office' – that makes me feel guilty. I haven't practised yoga in a while or walked as much as I thought I would – this makes me feel guilty.
Since lockdown, my daughter has become anxious of the outside world and finds it difficult to venture out. This has become a major obstacle for us, as our daily walks are keeping us sane. Incidentally, I received a newsletter from Dion at Mindful Monday and saw that she had written an article about the impact of lockdown on children's health. I signed a petition that she set up to raise awareness in order to increase support from our local MPs.
A few weeks ago, I went back to the office and it felt so normal and nice, just to sit in a proper office and catch up with actual humans in the flesh. I said to my MD, Caz, I feel so happy that I want to run around the village to release all of this tension. She said, 'do it' – I didn't, I can barely walk up a hill these days 😩
My lockdown haze has certainly had its ups and downs, but I am so grateful for the support that I've had at work and for the online resources that are out there to support families.
Louise
TPSquared Limited
Gravel Hill House
Gravel Hill
Wombourne
Wolverhampton
WV5 9HA
☎️ 01902 356280
💻 louise@tpsquared.co.uk
Subscribe to our blog to be notified when we publish new content